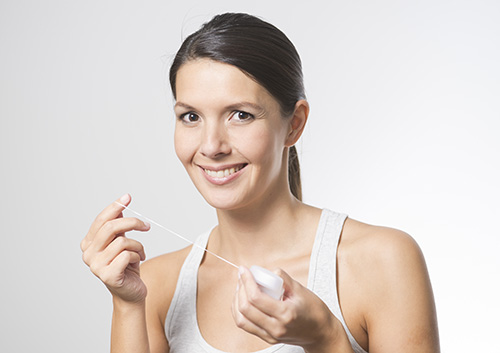 Ideally, it should never hurt when you floss your teeth. But if you haven't flossed in a long while or don't do it regularly, you may experience sore or bleeding gums. You should floss every day to avoid pain and maintain the best oral hygiene. In the meantime, there are a few things you can do to make flossing a little more pleasant.
Be Gentle
If your gums are sensitive, take your time and be gentle while flossing. Rough flossing can lead to more irritation and soreness. Also, daily flossing should help your gums become acclimated to the practice, and as a result, irritation should decrease over time.
Use an Alternative Method
If you still feel discomfort after being gentle, an alternative method of flossing may work better for you. A water floss machine or Waterpik can dislodge food particles and plaque without irritating your gums. Also, some brands of floss have a soft coating that make them less harsh and harmful to your gums.
Many people tend to forget or skip flossing, but it is one of the most important steps your dental hygiene routine and shouldn't be neglected. If you are consistent about flossing, your gums should become used to it and won't be so irritated in time.
For more flossing tips, schedule an appointment at our Granite Falls, WA office and ask Karen Everett or a member of our team!
Leave a Reply